On Wednesday I went to Java, Bali and Indonesia by way of the magic carpet which lies to the north of Great Russell Street.
For the first time ever in my experience there were so many people wishing to visit the British Museum that Museum Security was preventing immediate access at the front gate – in that familiar way that London Underground holds people 'in the booking hall area' when the platforms are full.  There was a new, heightened security process, via one of the ubiquitous 'snakes' between barriers, which had been in place, one of the guards told me, for a few months.
The wait was very short, a couple of minutes only, but inside the museum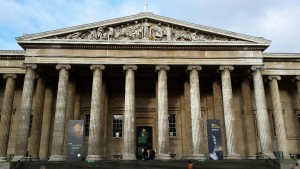 was very crowded.  Indeed, the Ancient Egypt galleries reminded me of a crowded underground platform, so difficult was it to move along, yet everyone seemed good-humoured (so not that much like the tube then). The mummies are always popular.
But they were not what I was there to see. My destination was Room 91 in the print, drawings and special exhibition rooms on Level Four at the rear of the museum and, when I arrived there, it was far, far less crowded.
The Museum has a large collection of shadow puppets, dating from the 1700s onwards and here they were exhibited to good effect. From all parts of Southeast Asia, including China as well as Java, Malaysia, Indonesia and Thailand these exquisite objects are made from hide and metal, painted on both sides and are manipulated between a light source and a white screen to act out stories old and new.
Shadow theatre has been part of Chinese and Southeast Asian culture for millenia and some puppets are regarded as sacred objects. Called pi ying xi
in China, saubhik in India, wayang in Malaysia and Indonesia or nang yai in Thailand, traditional 'plays' follow stories from legend or from epics like the Mahabharata or the Ramayana. Performances used to take place to recognise important events, births, marriages etc., but today they are often for entertainment only. There are performances of different types shown on video screens in the exhibition.
I particularly liked the golden Arjuna puppet, fighting the laughing demon, accompanied by his two 'clown' servants and I have always had a soft spot for Hanuman, the monkey god with his white fur.  The presence of the Zombie Queen was evidence of the ancient antecedents of what is a current phenomenon in TV and cinema.
Indeed there are modern versions of wayang which include modern characters 
like Darth Vader.  Most recently something called Hip Hop Wayang has become popular and there are puppets in the exhibition to represent that. I preferred the traditional puppets, with their delicacy and grace. Accompanied by music they act out story lines which every one in the audience recognises, save for the youngest, who sit, transfixed.
The tradition is alive and well, though transforming itself to fit modern sensibilities. I thoroughly enjoyed seeing its protagonists.  The British Museum is open from 10.00 a.m. to 17.30 p.m. every day and many of its exhibitions are FREE. The Shadow Puppets is one of them and it is well worth a visit. It runs until 29th January 2017, so only has a month to go.
As I left the crowds had thinned somewhat and I stopped to speak with the guard on the gate, saying that I had never seen it so busy.
'You should have been here yesterday,' he said, in a lilting Irish brogue. 'Twenty thousand through the doors and that was only in the morning.'
The British Museum is a huge complex of buildings, but it would be a struggle to absorb that many people without difficulty. I hurried off to Oxford Street (from the sublime to the ridiculous) where folk were shopping at the sales and it was altogether quieter.
If you enjoyed reading this article you might also enjoy             The Land of the Two Rivers                The First Library                Beyond Beauty        The Wrong Saint?