At Sadlers Wells Theatre on a wet and windy Wednesday evening, a dash of Andalucian colour and artistry came to north London with Paco Pena and his Flamencura show.
The Cordoban guitarist has made a home in London for some years, as well as a mutually fruitful relationship with this north London dance venue. This performance, also presented here two years ago, was a show case not only for his bravura guitar playing but also for 'classic' flamenco dancing and singing. The septuagenarian had only two solo pieces and for the remainder of the time played as one of the band with the other excellent musicians, guitarists Paco Arriaga and Rafael Montilla and percussionist Nacho Lopez. The performance and its original music was devised by Pena, though Arriago and Montilla are also credited.
It is very much a company show, a presentation of flamenco,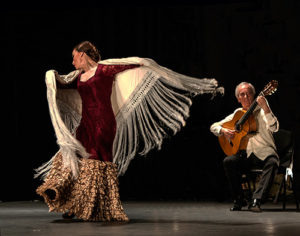 not a star-guitarist-led set. I have seen, and greatly enjoyed many of those, but this was different, closer to one of the grander, company 'spectacles' which so often attend big dancing stars like Maria Pages or Antonio El Pipa. Yet it was on a much smaller scale.
This small scale worked to its advantage, one saw a group of consummate artists just doing their ( beautifully designed and lit ) thing together. Definitely not a recital, there was too much fine choreography for that, but it had the feel of authentic flamenco in the way that the large stage spectaculars do not.
The show began with a row of seated musicians, first  in silhouette, then before a deep background of single colours, glowingly lit, which were echoed in the plain, sometimes asymmetrically block-coloured, costumes of the three dancers, two women and a man.
Angel Munoz is also from Cordoba, but known to Festival de Jerez goers (he will be teaching there in 2018 and, possibly, performing). He is elegant and spare in movement, balletic and fluid, though not as much so as, say, Miguel Lignan and he doesn't have the formal, statuesque grace of El Pipa. Nonetheless, his distinctly masculine presence overflows with artistry, either solo  or working on equal terms with the female dancers, all clad in black and performing the same choreography in Martinete (one could not imagine Lignan or El Pipa doing this anywhere nearly so effectively). His solea in the second act almost brought the show to a temporary halt, so long was the applause and his footwork was truly astonishing.
Joined by his wife and stage partner, Charo Espino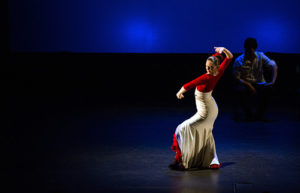 and Yolanda Osuna, this trio of dancers performed exquisitely, both together and singly, across a range of flamenco musical styles, alegria, graniana, fandango and tango ( and a petenera, a dance which I hadn't seen before ).  Espino has a languid, expressive grace, her long hands beguiling in sinuous movement, as well as the ferocious intensity of the best flamenco performers. Osuna is more angular and sharp moving, her feet rapping out the rhythm, though her dance with Pena and swirling patterned shawl was graceful and lovely to watch.
The 'invited artist' was Vimala Rowe, lately performing jazz with John Etheridge, who introduced a blues element. Flamenco has been called the 'blues of Europe' and there are many similarities between the two types of music and with jazz too ( see Jazz Guitar  and Camerata Flamenco Project ). After the initial surprise of its introduction, her deep,

swooping voice matched well with Jose Angel Carmona's more traditionally modulated flamenco singing and with that of Inmaculada Rivero ( who gave a spirited dance rendition as an encore ).
All in all, a fabulous night at the flamenco.  If this tours do go and see it.
Though one aside… it was very odd sitting among an English theatre audience, even one as knowledgeable about dance as that at Sadlers Wells, to watch flamenco. Where was the noise, the calling of encouragement, the instant approbation for a well-worked step or phrase?  Flamenco in Jerez is a two way experience. I ventured a solitary 'Ole', but the man in the next seat looked askance at the madwoman  to his left. I'm pleased to say that, by the second half, others in the theatre were making their admiration known.
To read more about flamenco performances try          Lamento              Reversible               Lola
Incidentally, the dates for the 2018 Festival de Jerez have been announced as 23rd February to 10th March.