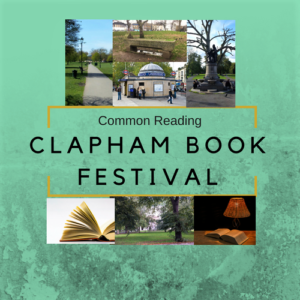 … though not quite pressing the flesh, this isn't an election campaign. Clapham Writers, or some of us, were out on the streets of the capital this Bank Holiday Saturday promoting the Clapham Book Festival. Clad in our newly minted Clapham Book Festival T-shirts, tag-line 'Common Reading', we were at Venn Street market as soon as it opened (and before some of the traders had even set up).
Soon the stalls were festooned with CBF posters and we chatted with the
traders.  Thereafter we were handing out leaflets to whoever would take them.  It was gratifying that a large number of folk said that either they had one already (we had been at Venn St one week before) or that they already knew about the Festival. A good number said that they were planning to come.
Plenty of people simply walked straight on by, but others walked past and then turned back to take a leaflet – I guess so many businesses are promoting services or goods for sale in this way today that pedestrians automatically avoid the leaflet giver, at least initially.  Then there is a double take – ah, that's a local community event, that might be interesting – and they come back and engage. The T-shirts helped. I was surprised by how many people stopped to talk about the Festival, asking about the events, who was on the Programme and where it was taking place. ( Had this been an election campaign, we would have been the foot soldiers, no one of Ministerial rank ever engages like we did. )
I had a long conversation with one lady on writing about southern Spain (she had lived in Malaga for thirty years) and with a gentleman about modern thriller writing. The pitch next to Clapham Picture House proved fertile and that opposite Olivier's Bakery (lots of folk stopping to buy bread and cakes).  We caught some local celebs too, Neal Pearson and Miriam Margoyles among them.
Venn St is named for the Rev. John Venn, he who invented the diagram of that name, so beloved of management consultants everywhere and there is a plaque to say so. The Venn family were rectors of Holy Trinity Church, Clapham ( see Amazing Grace ) and leading lights in the movement to abolish slavery and other progressive social changes.
Formally pedestrianised a few years ago, though it has been used for markets and cafes since well before then, Venn St has a plethora of interesting eateries, an independent cinema and a continental feel ( I suspect it's the olive trees ) even on a chilly April Bank Holiday.
But intrepid Clapham Writers went further afield,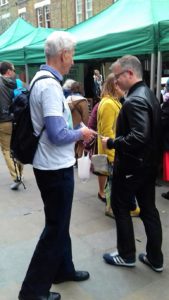 giving out leaflets on The Pavement near to Clapham Books, one of the Festival partners, and in Grafton Square and around the Clock Tower near the tube. One of our number went off to hand out yet more leaflets outside the Cafe on Clapham Common, popular with the dog walkers and yummy mummies, and The Windmill, rendezvous for thirsty sports teams once they've finished their games (for more about the Common see A Walk on the Wild Side ).
With only a week to go before the Festival volunteers will be out and about around Clapham in the days ahead. I managed to off-load posters and leaflets in a number of venues after the market, including local pubs and cafes. We'll be at the market for one last time next Saturday, to catch those more spontaneous Claphamites, in the gap between setting everything up at Omnibus and the beginning of the Programme. It's approaching fast!
If you enjoyed reading this article you might also enjoy     Clapham Book Festival – Media and Tickets                  Seduced by History                History Writing                    Bring Up the Bodies              Espionage