At Studio Voltaire on Thursday evening an interesting talk by the Tate's Martin Myrone, lead curator British Art to 1800 in conjunction with their exhibition Putti's Pudding, exploring work by Cookie Mueller and Vittorio Scarpati.
Mueller was a writer and actress, appearing in John Waters' films in the 1970s and '80s. She wrote regularly for East Village Eye and Details magazine in New York and her stories were published posthumously in Walking Through Clear Water in a Pool Painted Black (Native Agents, 1990). She and her husband, Scarpati, an Italian artist, political cartoonist and jewellery designer, feature prominently in artworks of the period by, among others, the writer and critic Gary Indiana and photographer Nan Goldin. Both died of AIDS-related medical complications to other illnesses.
Putti's Pudding was their final project. The cartoons were drawn by Scarpati on his sick-bed, many of them after he had lost the ability to speak and the words were by Mueller. The title comes from one of the cartoons, in which crowds of cherubs fly en masse over the sea – 'piles of angels' or 'putti 
puddings'. As Mueller says 'Vittorio continues to draw in the hospital room, to compile his illuminated visions, spreading some light around. There is a communique here for all of us that tells of strength of character, bravery and courage in the midst of adversity and intense physical pain.'
The pictures are sometimes amusing, often engaging, and reference his illness directly – there is one entitled 'So, I am all ready to go' shows him naked, surrounded by wires and tubes connected to two 'piglets', representing the canisters in the machine which regularly drained his lungs of ever returning superfluous fluids. Some are more 'classic' in style and subject matter. Most are clearly part of an ongoing internal dialogue with what is happening to him, one which, as an artist, is meant to be viewed. None of them are easy or comfortable. All include an element of dissonance, they are deliberately dischordant.
Quoting Ranciere, Myrone highlighted the ability of historical comparison – considering modern art alongside art which precedes it – to not only  place the piece of modern art in a continuum or progression, but also to disrupt it. This would be especially true of this type of dischordant satiric art. His specialism is the 'long' eighteenth century (1650 – 1850), with particular interest in 'satiric' art, so Gilray, Hogarth and Blake, but also Fuseli – he brought along a copy of The Nightmare as well as an eighteenth century printed cartoon. There are obvious similarities between those artists' works and Scarpati's, the use of line and blocks of colour, creating inconstant outlines; the cross-hatching featheriness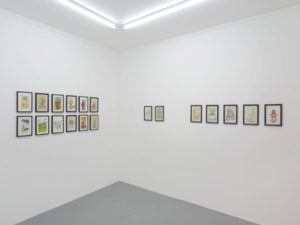 found in the earlier, often etched, works as well as the modern ones. The repeated use of text, in speech bubbles and scrolls, as well as some of the motifs – Scarpati shows his illness, one assumes, as a monster in the mirror, whereas Fuseli shows the monster of the mind on the chest of the sleeping woman. Scarpati's cartoons aren't 'funny' in the 'belly laugh' sense, neither are Gilray's.
Myrone argued that Fuseli's Nightmare, something coming straight out of the artist's imagination, not from classical sources or with reference to other art, could be said to be the first 'modern' painting. While I'm not sure that art can exist completely in isolation, at least now and in the west, I understand what he meant. It is the sensibility and imagination of the artist taking precedence and cutting loose from tradition. Whether that artist is a genius or a fraud is a matter of opinion. An interesting idea when looking at this year's Turner Prize contenders, which I hope to do soon.
There was interesting discussion at the end of the evening, prompting me t want to return and look at these cartoons again. Putti's Pudding is FREE to enter and runs until 12th November, it's certainly worth a visit.
If you enjoyed reading this article you might also enjoy                     The Precarity Centre                  Anselm Keifer                   Carol Robertson – Stars at Flowers                     Queer British Art 1861 – 1967