Everyone knows about 'blurb' – the promotional material, often by way of endorsement by well-known fellow professionals ( or just very famous folk ), found on the covers of books and the posters for films or plays.   It's European origins are in Dusseldorf, Germany, with the publisher K.R.Langewiesche,
who mass-produced books and articles at the start of the twentieth century. He called it Klappentext, ( word applause ) a suitably descriptive noun. But the spiritual home of the blurb, and the origin of the word, is in the U.S..
In 1907 the humourist Gelett Burgess first used the term, as both a noun and a verb on the cover of his short book 'Are You a Bromide?', which was presented at a trade association dinner. Traditionally the covers of such books contained a picture of a young woman ( an early, clothed version of the Page 3 Girl, perhaps ) and his was no exception.  The photograph of a woman calling out was described as 'Miss Belinda Blurb' and she was said to be 'blurbing', shouting the praises of what was contained between the covers. Burgess described his new term, which quickly caught on, as 'a flamboyant advertisement; an inspired testimonial' but also as 'a sound like a publisher'. The ambivalence about blurb has remained ever since.
His wasn't the earliest example of a book cover blurb, even before the term was coined. That may lie with Walt Whitman, ever the self-publicist, who quoted a line from a letter to him from Ralph Waldo Emerson – 'I greet you at the beginning of a long career' – as an endorsement printed in 1856 on the spine of the second edition of 'Leaves of Grass'.  The earliest ever blurb – a proto-blurb if you will – could have been Catullus first page endorsement and dedication of his own poems?  The most beautiful was probably Jonson on Shakespeare 'Shine forth thy star of poets….' for the First Folio. In the 18th century Fielding wrote probably the first anti-blurb, or satirical blurb, an endorsement of his 'Shamela' ( itself a satire on Richardson's hugely successful 'Pamela' ) a commendatory letter from John Puff Esq., giving rise to blurb's precursor verb – 'to puff'.  Other famous literary greats have shunned the blurb, George Orwell famously described it, in 1936, as 'disgusting tripe'.
Today the modern blurb is all-pervasive and the process of soliciting blurbs often starts long before publication, before the final copy-edit of a book, when a publishers galley is circulated to famous folk who might give an endorsement.  Some publishers have even been know to provide draft endorsements to ease the burden on the potential endorsee, who then simply has to choose. And some people are serial blurbers, the Irish author Frank McCourt, for example, or the American memoirist, Gary Shteyngart, the latter acknowledging giving at least 150 of them ( there is a Tumblr page  devoted to his blurbs ).  But do they work?  Well, yes and no.
For book blurbs there is little independent evidence showing success as regards direct sales, indeed what evidence there is, gathered by cover testers like the
Codex Group suggests that individuals aren't strongly persuaded by blurb when deciding to part with their cash. In a recent survey about buying habits, about 2.5% of book buyers said they discovered a book because of a recommendation by their favourite author, and only 1% said that this made them buy it.  That's about the same percentage as said they used a search engine to find and buy their next book.  What blurb does do, however, is attract attention within the publishing industry and that's part of the battle to get a book noticed. They also help booksellers 'place' a book and direct the potential book buyers attention to it, a name unfamiliar to the reader gains a familiarity from the name of the person endorsing it. And, in the on-line book word, they 'validate'  possible purchase, though it is on-line reviews which are more persuasive.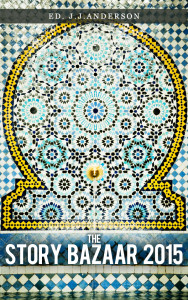 So to a request of readers.  'The Story Bazaar Compendium 2015' is about to be published in December, a conglomeration of the best articles and short fiction to be found on this web-site this year, along with some new work.  I am currently writing a description and 'blurb' for its rear cover. I have lots of comments from readers, about the web-site design and concept from when it first started, about individual articles and thanks for helpful hints ( what has become the 'How NOT to…' series ).  What I am seeking, however, are views ( positive, I hope ) on what the web-site provides overall and why readers return to it and read it.  I know some of you read the site for particular reasons – my stats show that some groups are particularly interested in the writing & publishing aspect, while others like the articles on history or Spain.  Whatever your particularly interest, I would be grateful for your comments and your agreement that I may use them in my blurb.  And, if there are any famous readers out there………?
Please use the comment box provided or e-mail your views to info@thestorybazaar.com.  Thank you in anticipation.