I am not sure of the origin of zambombas. They are a traditional celebration and peculiar to Jerez. To my knowledge no other city has them, although, given the number of tourists drawn into town to witness and take part in them, other towns in the region are setting up their own, pale imitations.  Tradition has it that they began as a way of local communities getting together to celebrate, and satirize, the season without the presence of the Catholic Church.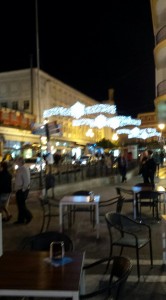 The 'impromptu' street parties, of music, singing, dancing and, traditionally, eating and drinking, simply 'appear' in squares or courtyards in the pre-Christmas period.  Sometimes hand-printed posters tell you where they are to happen, sometimes it's word of mouth.  Though this year the Town Hall has insisted that anyone holding a traditional zambomba has to have a paid licence to do so ( given their proliferation and the number of bars and hotels which are getting in on the act ).
On Saturday, ten days ago, I had almost given up hope of attending one. The weather had been kind, warm with blue skies, but at about six o'clock the heavens opened. Given that one traditional aspect of a zambomba is a fire, usually in an oil drum, and that the rain was becoming a torrent, I resigned myself to missing out. Then I received a text saying 'Get to Plateros for the biggest zambomba in the known universe.' So off I went.
Regular readers will know that Plateros, or the square of the silversmiths, features frequently in these reports. In part because it's very central to the old town of Jerez, in part because I have friends who live there and in part because it also features strongly in 'Reconquista'. On Saturday night it was full to bursting
with people. The chairs, tables, heaters and parasols of a local bakery and café had been appropriated by musicians and zambomba attendees. When I arrived the celebration was in full swing, though without the traditional fire – it would have been far too dangerous, not to say destructive of the large parasols and might have prompted objections from their owners. The zambomba drum, an instrument made of terracotta and, traditionally, animal skin, with a distinctive booming sound, was keeping the rhythm, assisted by clapping and tambourines in the crowd. The song being sung when I arrived was 'Los Caminos de Hicieron' telling of the road to the stable.
The zambomba songs are a mixture of traditional folk songs for Christmas, like old English carols, and mischievous (and dirty) ditties. Like many old carols, much is made of the natural world and the form of the songs translates too. There are 'list' songs like 'De Los Doce Palabras' ('Of the Twelve
Words') which recall 'The Twelve Days of Christmas' and round songs. Even the dirty ditties have a familiarity. 'La Micaela' tells of Micaela, a doctor and a physical examination which is only superficially a medical one. The songs which don't translate are the anti-clerical ones, like 'El Cura non va la Iglesia' ('The Priest who doesn't go to Church'). Most unusual are the place-specific songs. Not just songs which reference Jerez, like 'Vente Pa Jerez', but references to actual roads and squares.  Calle San Francisco, Calle Dona Blanca and Calle Medina ( the road at the top of my street ) all feature.
When I left, the zambomba was still going strong, with people dancing as well as singing and the crowds growing denser (if that was possible). Folk come into town from miles around and from other parts of Spain to see them. On my way back home I was asked for directions on three occasions, all by visiting Spaniards.  For once I felt very (though spuriously) Jerezian.
If you enjoyed reading this piece then you might also enjoy                       December – Advent               Festival de Jerez II                The Feria                     or any of the other reports from Jerez found under the 'From a Foreign Field' tag.