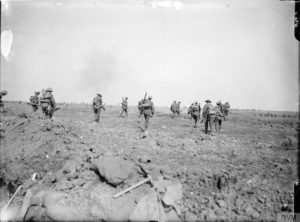 Friday was the one hundredth anniversary of the first day of the 'Battle of the Somme', which was really a series of battles lasting one hundred and forty-one days, fought around the River Somme in northern France. There was a two-minute silence at 7.28 a.m. to commemorate the start of the battle, though, if you didn't happen to be watching or listening to the BBC you might not have known. The other news media was concentrating on comment and reportage about a metaphorical blood-letting, the treachery between Brexiters.
Had you been at a mainline station somewhere round the country you may, however, have come across some living artworks, by Turner Prize-winning Jeremy Deller – one or more of fourteen hundred men, dressed in replica uniforms of WWI British soldiers. Entitled 'We're here because we're here' they stood, waiting and silent, but alive. If anyone spoke to them they did 
not reply, but handed out a card upon which is written the name and details of a British soldier who died at the Somme.  Eventually they sang the trenches song, 'We're here because we're here.' to the tune of Auld Lang Syne, then dispersed, into shopping centres and parks, where they stand again.  A remarkable work, it unsettles and makes one think, as good art always does.
A word here for Lyn Macdonald, who, if you haven't heard of her, is a writer about the First World War, usually using and reproducing the letters and writings of people who took part.  I first came across her work when a friend gave me the excellent 'Roses of No Man's Land' a chronicle of the war from the neglected viewpoint of the casualties and the medical teams who struggled to save them.  Kit Dodsworth, eighteen year old daughter of a Yorkshire lawyer, or Gladys and Hilda Pole, the youngest of five daughters of a Kent clergyman and Mary Ludlum, an American travelling in Europe with her kindly aunt, Mrs Higbie, are typical of the young volunteers. They begin as you might expect – excited, thrilled by the prospect of the freedom to contribute – but their letters and diaries, from a field hospital near Rouen, a hospital ship near Gallipoli or a dysentery ward in Cairo spell out exactly the cost to humanity.
There are also letters from Captains, Privates and Leutnants, near the front and in the hospitals at home.  It is hard not to be moved by these voices and, eventually, humbled by the commitment of these individuals to carry on, even as their youth and innocence slip away. I  recommend this book highly. Macdonald's 'Somme' lies on my bedside table, I will be reading it soon.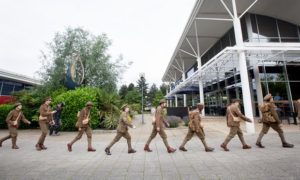 For anyone who is interested in the people who took part in the Battle of the Somme the Imperial War Museum web-site is a treasure trove.  The testimony of Second Lieutenant Edward Colle MC, one of the first officers to command a tank in battle, the experiences of VAD Nurse Dorothy Field as the Somme began and details of what happened to countless others, including one Second Lieutenant J R R Tolkein.  Here you can also find 'Seven Artworks inspired by the Somme' paintings, maquettes and sculptures, some of which appeared in an earlier IWM exhibition discussed in 'Last Chance to See…
I plan to visit the IWM to see 'Real to Real', its history of war films which began on 1st July and 'Visions of War Above and Below' which runs to 25th September.  I will report back.
If you enjoyed reading this article you may like reading others about history and about art. Use the tags to find them or try                 Waterloo