It is said that there are only six degrees of separation between any two people.
In his 1929 book of short stories Everything is Different, Frigyes Karinthy suggested in Chain Links that, as the networks which people used to communicate and interact grew ever more sophisticated and wide-ranging, any individual could find links to any other through only six steps. So, a 'friend of a friend' went to school with… the third cousin of… and so on. John Guare turned this idea into a play, Six Degrees of Separation in 1990, just before the internet explosion.
Facebook now calculates that the average separation for all its users is 5.73 steps, while LinkedIn's 2016 calculation is 4.57 steps and network theory¹ is taken seriously indeed. Thus E.M.Forster's opening line 'Only connect' in Howard's End (1910) is not only Margaret Schegel's credo, but also becomes more practically possible as human beings' level of connectivity increases, at least in a very superficial way.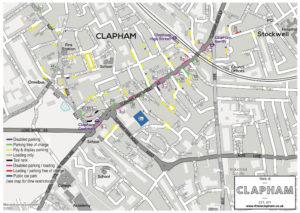 So one shouldn't be surprised at finding unlooked for connections. I found one this week when helping out with information about Clapham worthies,particularly literary worthies of the past ( see Walk on the Wild Side ). This is Clapham, the sponsor of the Clapham Book Festival, was looking to up-date their map of this part of London with some additional info, some of which I was able to provide. However I didn't have a lot of knowledge about the Hoare banking family, who I knew were Clapham residents in the eighteenth century.
Jeremy, of This is Clapham, contacted the archivist at C Hoare & Son ( the bank is still going ) to try and find out more. He discovered that bank partner Henry Hoare (1705-85), a grandson of the bank's founder, built a villa known as 'The Wilderness', on Victoria Rise, just off Clapham Common Northside in the 1750s. From then on, he divided his time between Clapham and his country estate, at Stourhead, in Wiltshire. Another partner, William Henry Hoare (1776-1819), a prominent member of the Clapham Sect, lived at Broomfield House (formerly the home of William Wilberforce) from 1808 until his death.
I first visited the stunning gardens of the Stourhead estate in the 1980s and have been back on several occasions since. My initial visit was prompted by my then brother-in-law who lived nearby. Henry Hoare did not create the gardens, with their famous lake and classical temples, but his picture collection, including Claudes, Poussins and Dughets, inspired his son to do so. He did, however, demolish the old Tudor manor house and begin building the existing Palladian mansion, one of the first of its kind in England.
So, if we are playing the connections game – Julie Anderson lives in Clapham, close to where a London villa was built by Henry Hoare, who also owned Stourhead, where his son, also Henry, created the gardens, which were subsequently used for the film Barry Lyndon, which was directed by Stanley Kubrick, who was blogged about by Julie Anderson ( Day Dreaming with Kubrick ).
Neat. The trouble is, I begin to think of lots more…….
¹The bailiwick of mathematicians, sociologists and physicists. Oh, and traffic and urban planners.
If you enjoyed reading this article you might also enjoy Amazing Grace Common Books Undiscovered