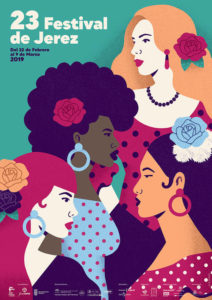 It's that time of year again and the Programme for the twenty-third Festival de Jerez has been released ( you can find the programme of performances here FestivaldeJerez2019 or on the Festival web-site ).
Festival 2019 runs from the 22nd February until the 9th March 2019 and includes thirty-nine performances in the 'official' Festival, though as regular Festival goers know, there are just as many, if not more, 'off Festival' in the Flamenco penas and tabancos. These will form part of the advertised events, but aren't finalised until much nearer the time. There is a full programme of flamenco courses too, over forty classes with the finest dancers, singers and musicians, from beginner to professional.  Last year people from over thirty different countries took part.
So, what's the Programme like? Well there are some old favourites, like Maria Pages and Eva Yerbabuena, with their respective companies in the Theatre, as well as a theatre production from Mercedes Ruiz (for more on whom see Lamento ).  Phenomenal dancer Eduardo Guerrero returns and features there too, as does the Ballet Flamenco de Andalucia.  There is the Toca Tocque cycle of sessions featuring the guitar ( we're bound to go to at least one of these ) 
and a dance cycle entitled Baile con Ellas, featuring female performers.  Both these cycles are located mainly in Sala Paul or Sala Compania, smaller venues, rather than the formal theatre.
The concert recitals in the beautiful Palacio Villavicencio are restored this year, in the Ciclo Los Conciertos de Palacio and there is a cycle entitled Sin Frontera, 'Without Frontier' which might be more avant garde.  One performance in the latter is based on Gaudi so that might be interesting. Similarly intriguing is the lunchtime event at Bodega Gonzales Byass called Flamenco Kitchen by the Compania Flamenco Nomada ( an intriguing name in itself, meaning 'nomadic' ).  Hmmm.
There is no Santiago Lara this year (even though his wife is performing) and no Antonio Rey – both personal favourites and who were both there last year, similarly David Carpio. Javier Patino is back again, however,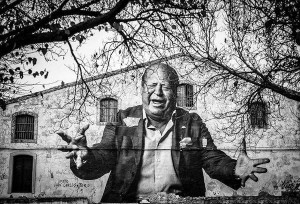 this time at Sala Paul ( we may well find ourselves in the audience again, see Caballero and Patino at Sala Compania ).
The art exhibitions, which take place inside some beautiful and historic buildings – palaces, the Alcazar, the Claustros – as well as outside in public places, are not yet advertised, but there is sure to be a good selection of fine things to see. For festival art past see Festival Art 2018, Street Art and, for an example of other types of interesting exhibition see Indomitable Women
There is a happy coincidence of dates in 2019, in that the 2019 Carnaval de Cadiz runs next year from 28th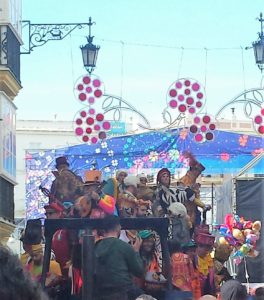 February to Sunday 10th March, so Festival de Jerez goers can take in some of the unique atmosphere of the Cadiz Carnaval ( see Carnaval Sunday ). The final Sunday, when we visited two years ago, is manic ( one of our party described it as one of the most surreal things he had ever encountered ).  Absolutely not to be missed.
Can't wait.
If you would like to read more about past Festivals try                          Camerata Flamenco Project – Amazing                    The Guitar in Time            Flamenco Jazz Guitar                   Lola                             Dancing to Different Tunes                              Voice of the Earth