One week to go. There's just over a week until the beginning of the Festival de Jerez 2018 and my party of Festival goers is anticipating it all with glee (must buy train tickets today). Scattered across the UK, but focussed mainly on London, those folk who visit Jerez but once (or twice) a year rely mainly on recordings for their flamenco fix. One of us saw flamenco in Birmingham, two of us went to Sadlers Wells to see Paco Peña last Summer and yet another went to see the same guitarist in performance elsewhere in London. I am fortunate, I know, to spend so much time in Jerez and get to see flamenco regularly.
Yet I have discovered that the British capital actually has its own Peña, which has been going since 1984. The Peña Flamenca de Londres is based at a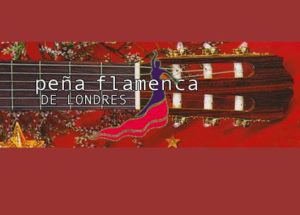 Pimlico Church Hall with honorary presidents, Paco Peña and, until very recently, the late Maribel la Manchega. There is, I learn, even a Feria de Londres! I must go.
Also in recent years Sadlers Wells, the north London theatre specialising in dance, has established its own Flamenco Festival which runs either before or after the Festival de Jerez. This year's edition is the fifteenth so far and it starts today, running until 24th February, just overlapping the Festival de Jerez which begins on 23rd. It has an impressive line-up – Maria Pages, a Festival de Jerez regular, Carmen Linares, Isabel Bayón, Jesus Carmona and Rafaele Carrasco, whose excellent tribute to Lola Flores we saw last year at Bodega Gonzales Byass.
These performances are extremely skilful and fine and they are popular (even though expensive, most London theatre is). I'm glad the theatre is giving a showcase to this art form. Yet, for me, sitting in silence in the stalls watching the performers strut their stuff and applauding politely at the end is not the experience which I am used to. The interaction between performer and audience is one of the things which makes flamenco so special – it is an art of the people and the people are supposed to encourage it. In a formal theatre, with a London audience, this interaction is largely missing and the experience is somehow sanitised, less authentic, though this is, in no way, to cast aspersions on the performers.
I want the applause and the shouts of encouragement mid-performance, to reward a particular difficult passage played or danced well, the stamping rhythm and clapping when a performance ends and the audience wants more. I want to see the performers come out and chat afterwards, even the famous ones ( we saw Antonio El Pipa chatting in exactly this way a couple of years ago in Jerez, though I guess that this might happen less elsewhere, as many of the performers are Jerezanos and local ).
I realise that I want the impossible. I want to be able to go and listen to a friend's cousin's son sing at a Peña and then go and eat at the bar on the corner, where the cook is another friend's niece. In short, I want flamenco in Jerez.
For me, the good thing is, if all goes well, that is what I will get in a very short time. Meanwhile, I leave readers with a short film of flamenco Pimlico style, as everyone enjoys the Feria de Londres 2016.
If you enjoyed reading about flamenco why not read                               Lamento                    Jazz Guitar                  Flamenco Jazz Guitar