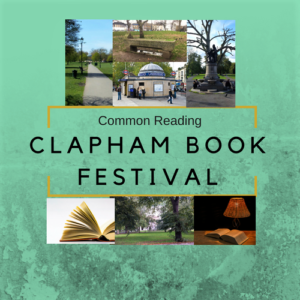 Sponsors, advertisers, all those businesses out there which want to associate themselves with a quality festival of reading and literature – we need you!
Clapham Book Festival is into fundraising mode. Thus far our main sponsor has been This is Clapham, the Clapham Business Improvement District and we will be applying to them again for the Festival 2019, but it's time for us to be looking for other funding too, specifically from sponsors.
So what do we offer?
Our publicity has a long reach for a small Festival – we punch well above our weight. In 2017 we reached over 450,000 people, through local press, TV and radio and social media.  South London societies and book clubs are engaged as well as prestigious institutions like the Society of Authors and the Royal Society of Literature to circulate our publicity, as well as more recently established on-line organisations such as Book Brunch. The Sunday Times has shown interest in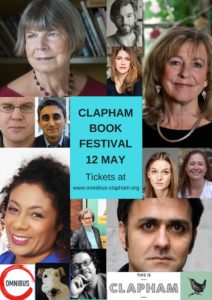 writing about the Festival.
Association with the Festival is association with high quality. Festival events have uniformly high satisfaction ratings (mid to high nineties). The Programme has include literary stars and household names like Dame Margaret Drabble, Kate Adie, Mark Lawson and Deborah Moggach.  The Festival has a track record of attracting rising stars and prize winners.  In 2016 Max Porter went on to win the International Dylan Thomas Prize, while in 2017 Andrew Lownie won Biography of the Year and St Ermin's Intelligence Book of the Year for his biography of Guy Burgess. Crime writers who appeared at the Festival and were later recognised on Prize short-lists were Sabine Durant, M J Carter and J P Delaney. Vaseem Khan is currently short-listed for a Shamus Prize (Best Original Private Eye Paperback). The Costa Award-winning YA author Patrice Lawrence took part in 2018.
Supporting the Festival supports work on literacy and reading in South London. Clapham Writers, the charitable body which oversees delivery of the Festival conducts out-reach work to children and disadvantaged groups in south London working in partnership with Lambeth Libraries, the Reading Agency, HMP Brixton and National Prison Radio, Age UK and other local charities.
Various sponsorship levels are available
Companies or associations get their logo on Festival literature for only £250.
Accreditation as a sponsor costs £500.
Golden sponsor status is available for £1,000+.
We always acknowledge our supporters, even non-financial ones. So, in 2018, The Windmill Hotel was mentioned in the Festival satisfaction survey and by name, as the donating organisation of the prize. Our tie-ins with local business, for example, with cafe Tart are advertised in our literature. In 2018 Leslie Martin Ceramics featured on our tri-fold leaflet.
Two members of our Board will be contacting local firms and the Clapham offices of national businesses over the next few weeks to ask for sponsorship and/or arrange tie-ins.  Or contact us at claphambookfestival@gmail.com.
For more information on the Book Festival visit our web-site and take a look at the list of authors who have appeared. Or try                   Clapham Book Festival 2018, How'd It Go?                  Clapham Book Festival 2017, It Begins                    'Omnibus' Clapham's Literary Festival 2016