'It's just so Clapham round there,' said Dave from Streatham, my colleague on the Clapham Book Festival stall at Saturday's Old Town Fair. He'd just been for a wander around.  'All children and dogs… didn't they call part of Clapham 'Nappy Valley'?'
They still do (especially the estate agents). Though, to be fair, this was when Clapham Mutts – the fair's annual dog show – was taking place in the arena just behind our stall. Also, to be fair, I hadn't ought to criticise estate agents this morning, having enjoyed Dexters'* light-as-air cup cakes at no charge on Saturday afternoon.  It wasn't just Dexters offering free comestibles, a gentleman wearing a chef's coat was seen carrying large trays of what looked like delectable nibbles around, which didn't last long. I didn't get to try any, but folk who did seemed to like them. Nor do I know from whence the man came, lots of local restaurants were taking part.
Clapham is a good place to live (though it has become unaffordable for many, I appreciate) and events like this one demonstrate why. The sun was shining and it was hot in the open, landscaped space in the Georgian Old Town, adjacent to the Common.  There were plenty of families, but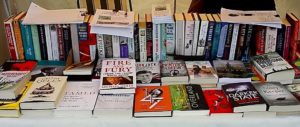 couples, groups of friends and individuals too, out to enjoy the food and drink, the music and the activities.
This was the third September shindig and the Festival has taken part in all of them ( see At The Polygon and He Shouldn't have Parked There for reports on earlier events ). The event is arranged by This is Clapham – the estimable Jeremy Keates, its' elected officer, was in evidence taking photos during the day –  in partnership with Omnibus Theatre.  It continues to thrive and grow and has a 
good, community feel, with lots of local societies taking part. Charitable bodies, like our own, are permitted free stalls, a noted difference from other Fetes and fiestas. This year the event spread from The Polygon into nearby Omnibus Theatre, where a Local History Fair took over that space, as part of the month-long Lambeth Heritage Festival.
Inside there were stands from the Cinema Museum, from Lambeth Palace Library and the Clapham, Brixton and Streatham Societies with historical displays and books for sale. I didn't see them – too busy on our own stall – but there were talks in the theatre, including one about the history of Clapham Library and its conversion to Omnibus Theatre, and guided local walks.  The Clapham Literary Trail free leaflets on our stall had plenty of takers.
We gathered lots more e-mail addresses from people interested in being informed about the Festival and a few people
came along who had been to this year's edition. One of them, David, the winner of this year's Prize Draw, dropped by to say hello – and buy a book. In all we sold well over a hundred books, all donated by local authors and publishers, and raised several hundred pounds for the Festival, as well as its profile.
'Oh I can't buy any books. I've got far too many already,' was a common refrain, though I must say that every single person who said this ( bar one, who was on a bike ) went on to buy at least one book. Some bought four or five. Others asked us to put some volumes aside while they went off to get cash and then returned to purchase their books. But these were bargains and if you're a book person, well, you can't walk away from good books at bargain prices.
My one gripe – I missed the Penalty Shoot-out.
For more about Clapham try                  Common Books                        The Battle of the Crows             A Walk on the Wild Side                    Amazing Grace
*For those who don't know, Dexters is an estate agents and one of the sponsors of the Old Town Fair.