So we come to the vote. Theresa May's Withdrawl deal goes before the Commons tomorrow as we enter the End game. What could happen next has been the subject of much speculation in the media so this post won't be about that.  Instead, it looks at what has happened to the remaining standard-bearers of hard leave.
Nigel Farage has quit UKIP, ostensibly over the current leader's engagement with right-wing extremist and convicted criminal Stephen Yaxley-Lennon, whose latest alias is Tommy Robinson.  Several other high(ish) profile UKIPpers have resigned for the same reasons. Farage is still a Member of the European Parliament, so is still claiming his salary and he will, one assumes, claim his substantial pension from the EU regardless of the UK position.  He is speaking openly about starting another political party, potentially based around the Leave Means Leave organisation to pursue Brexit if Article 50 is extended or there is another referendum ( see Mail article here ). The hero will, it seems, return (see The Hero Returns).
He is rather less choosy about who he consorts with in the US, having appeared on platforms with a number of people who hold similar views to Yaxley-Lennon. A subject of interest to Robert Mueller, who is leading the investigation into potential electoral fraud in the US, Farage's visits to Wikileaks founder Julian Assange have come under scrutiny as has his relationship with Jerome Corsi and Ted Malloch, the latter a member of the Trump campaign. Farage continues to broadcast on LBC, though the calls he takes are closely filtered, given journalist Carol Cadwalladr's questions to him on air.
Aaron Banks, the businessman who made the biggest political donation in UK history is now being investigated by the National Crime Agency.  It
seems that he was referred to the Home Office during Theresa May's tenure there, as a person whose political donations were suspect, before the Referendum.  The referral was not pursued. While Banks is undoubtedly a wealthy man, his 'business empire' now begins to look flaky, with the classic cat's-cradle of loans, share purchases and contracts between companies controlled by him and based abroad. He is currently barred from owning an insurance company and his companies registered in Gibraltar are under investigation by the financial authorities (!) there. ( See this Open Democracy article for lots of detail. )
Liz Bilney, CEO of Leave.EU and business associate of Banks is also being investigated.  The overlap between those involved in the Brexit campaign and Directors or executives in Banks' companies is striking. Andy Wigmore (above, with Banks ) is another such. Even the BBC is now searching for the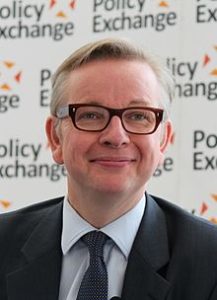 source of the Banks millions donated to Leave and they can't seem to find it ( see Newsnight report here ). If the funds come from outside the UK and their source is not clear, transparent and British, the use of the money is impermissible under UK law.  Could this finally be the nail in the coffin for Leave? Maybe, but an NCA investigation is likely to take months and Britain is scheduled to leave the EU in three months time.
Michael Gove is perhaps the most canny of those who spear-headed the Leave campaign. Supporting Theresa May's deal gets him lots of brownie points for loyalty (his intended audience is not Mrs May, but rather those Tory party grandees who were less than impressed with his U-turn on running for the leadership).  He may have also realised that it is probably the best opportunity to actually get Britain out of the EU – the details can come later, but if this deal falls the likelihood of a very 'soft' half-Brexit or no Brexit at all increase.
For Boris Johnson and David Davies see End Game, though since that post was written Johnson's fortunes have plummeted further, and he has been forced to apologise for failing to declare over £50,000 of income to Parliament.  Even worse he was laughed at in the House of Commons during the debates this week, as the Tory on the benches behind him managed to completely undermine the blonde's speech. 'No one would vote for such a travesty' thundered Johnson. Man sitting behind him raises hand. 'I would' he says. 'It is inconceivable that…' says Johnson. 'No it isn't,' says the man behind him. I don't know who he was and I probably disagree with him politically, but he gets a 'Well done.' from me.
For earlier Brexit columns see                        It's all about the money                Criminal proceedings                 The Clock is Ticking                       If Mrs Merton Did Tax and Brexit