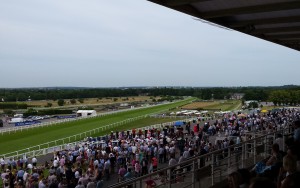 Yesterday was Ladies Day at Sandown Park Racecourse in the salubrious, not-quite-London suburb of Esher ( Great South Western trains approx. 20 minutes from Waterloo ). The sun shone kindly on a few thousand race goers, many dressed to the nines.  Not as grand, or as grandiose, as its regal cousin in Ascot, nor as rural as its historic, but more plebeian, relative in Epsom, Sandown still hosts some first class racing, such as today's Eclipse Stakes. Fifteen thousand people, a full house, are expected today (Ascot can host seventy thousand and Epsom, probably, a hundred thousand, given the free view from the Downs) to see if this year's Derby winner, Golden Horn, can follow up his win with another big prize. Yesterday was quiet by comparison.
Like many race courses, especially those which serve large urban populations, Sandown Park has, to an extent, sacrificed charm to capacity.  The newly refurbished 
Ascot reminds me of nothing so much as a shopping mall and even Newmarket looks a bit like an out-of-town superstore, with that ubiquitous 'municipal building' architecture so over used in the '90s for tax offices and leisure centres.  It's all about accommodating the crowds. Aintree can hold up to one hundred thousand, and it isn't even a rural course, while York can now hold forty thousand plus.  Nonetheless, on a sunny and relative quiet race day Sandown is very pleasant, though London race goers looking for old-world charm, as opposed to better quality racing, might try Windsor, where a river boat takes a new arrival from railway station to antique race course.  For aficionados of the equine, Sandown is better.
Proceedings were enlivened, if enlivening was needed, by the 'best dressed lady' competition. Decent, designer prizes, meant that efforts were made and there was more than a smattering of extremely stylish women, if a little over-dressed for anything but a wedding, fete or race day.  Fine exceptions to over-kill were those who went for a slightly period, elegant look (see left) and/or were, quite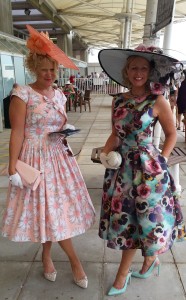 frankly, so good-looking that they would have drawn admiration anywhere and in whatever garb (such as the winner of the competition). Heels abounded and not just those of the elegant but relatively sensible variety, but six or seven inch stiletto heels on shoes which were themselves raised, their wearers heading inexorably for Hammer toes, bunions, Morton's neuroma and probable lower back pain.  There is, nonetheless, a link between high heels and horses.
High heels were first worn, historians of apparel think, by men – Persian horse riders of the 9th century – to prevent the foot slipping forward in the stirrup. Riding shoes with raised heels first appeared in Europe in the 1600s with this entirely practical purpose.  They still feature today on riding boots and cowboy boots and, as 'Cuban heels', on boots worn by men to dance flamenco.  Historical figures who wore them include Catherine the Great and Mary I of England, whereas Napoleon, though famously short, poured scorn on high heel
wearers and led to them going out of fashion on the continent (and becoming more fashionable in Britain).  No doubt they will feature in the new V & A exhibition 'Shoes; Pleasure and Pain' which your blogger will be reviewing later this month.
Incidentally, the considered opinion of those in my party who claim to know, (I do not), was that Golden Horn will not win the Eclipse Stakes (I post this blog piece before the race is run).  That said, this uninformed race goer, your blogger, managed to come out with a greater cash return than any of the rest of my party yesterday.
Entrance to Sandown Park on a day such as yesterday is about £20 per person, whereas a day like today the cheapest ticket, booked in advance is £23 and a cost of £28 on the day. Full details can be found here.
I you enjoyed this blog piece try reading
A Village Fete             Summer is a-comin' in             Breaking News; Triffid seen on Central Line